Hillsdale Town Historian Speaks on The Columbia Turnpike at Library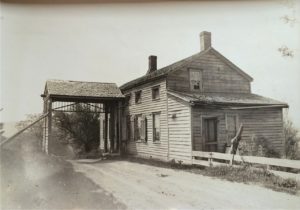 Chris Atkins, Hillsdale Town Historian will discuss the history of Columbia Turnpike on Saturday, January 19 at 4 pm. The Columbia Turnpike was the 1799 Toll Road that connected Massachusetts with the Hudson River during the 19th Century. A portion of the East Gate Toll House still stands on Route 23 in Hillsdale and Atkins is a member of a group working to preserve the structure.
The presentation will include Atkins' findings after a yearlong investigation into the original path of the Turnpike. Many people believe that the turnpike followed the path of today's State Route 23, but in fact, as Atkins will demonstrate, the original turnpike diverged from today's RT. 23. Those who attend will receive an 11"x17" copy of the map, which also includes information about many of the historic structures that still exist on the original turnpike path.