Unearthing the History of an African-American Cemetery
February 10, 2019@2:00 pm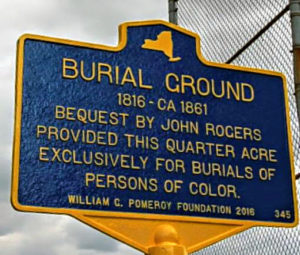 Unearthing the History of an African-American Cemetery in Kinderhook will be shown at Roe Jan Community Library on Sunday, February 10 at 2 pm.
In rural Upstate New York, the cleanup efforts of a few villagers of stone markers in an overgrown field led to the rediscovery of a forgotten, "slaves' cemetery" in which hundreds of African Americans were buried during the 1800s. A portal to the past lives of Kinderhook's lesser-known non-white population, the documentary explores Black History and the efforts of some Hudson Valley residents to restore respect to the Persons of Color Cemetery.
The one-hour documentary features the archaeological dig and a Ground Penetrating Radar Survey conducted at the site. Moving excerpts from the 2017 cemetery rededication ceremony and a dramatization involving oral history and the Underground Railroad are included.
Filmmaker Barbara Reina is a writer, photographer and videographer. Born and raised in Ulster County, she has been an FM radio newscaster/reporter and has written for various newspapers . She is also the author of a Science Fiction/Romance novel.
Related Events