COVID-19 ALERT: The Park and dog run are open to humans and dogs (on leashes). Please use discretion and observe social distancing guidelines. Park users should keep at least 6 feet distance between themselves and other people who are not otherwise quarantined together
Not all humans want to be greeted by your dog – even under normal circumstances. Please control your pet.
Dogs are welcome in the Roe Jan Park – please keep them on leash and always clean up after your dog. The park is also home to Columbia County's only community-run dog run, located on a section of old Route 22. Look for trail signs at the southern edge of the parking lot (near the entrance).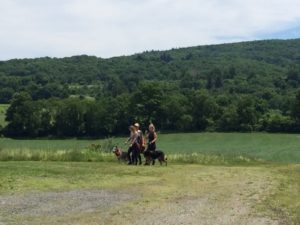 A few details about the dog run:
It is located south of the park entrance, parallel to Route 22…almost across from the new library.
All visitors to the park and the dog run must use the main parking lot at the park entrance area.
Bring your own water.
We have constructed a separate area at the front of the run for small dogs and puppies. Dogs over 25 pounds are not permitted to use the area.
Two poop stations are provided in the dog run and one in the main parking lot. It is essential that visitors pick up after their dogs and deposit waste in the receptacles.
There is lots of wonderful shade and we have provided a few sitting areas.
Dogs must be on the leash outside the dog run at all times.
Be sure to always close the gates behind you.
This is a volunteer dog run and help in any way would be most appreciated, including help with poop bag removal. To become a volunteer write to us 

[email protected]

.