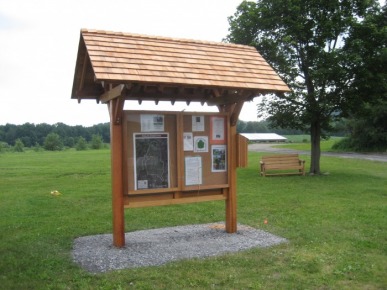 The RJP operates under an agreement between the New York State Office of Parks, Recreation, and Historic Preservation (OPRHP), who owns the land, and the Town of Hillsdale, whose responsibility is to manage and guide its use for our extended Roeliff Jansen community.
Because RJP is not a traditional state park, it does not have state funds for staffing. Volunteers help manage, maintain and run the park day-to-day. Everyone using the park will also play an important role in keeping it clean and enjoyable.
The following park rules are designed for your safety and the safety of others. In case of emergency, please call 911. The address is 9140 Route 22, Hillsdale, NY 12529.
Please follow these simple rules so all may enjoy the park:
This park is open daily from sunrise to sunset.
No swimming pursuant to state law.
No motorized vehicles allowed.
No camping or campfires due to fire risk.
The park has a "carry-in, carry out" policy.
No horseback riding.
Bike riding only on the farm road. Please stay on the hard-packed north/south farm road.
No loud music (headphones only).
Please leash your dog and pick up after them (stepping in dog poop is no fun).
No smoking beyond the parking area.
No alcohol allowed.
Note that rules can be modified under special circumstances such as a wedding. More here.