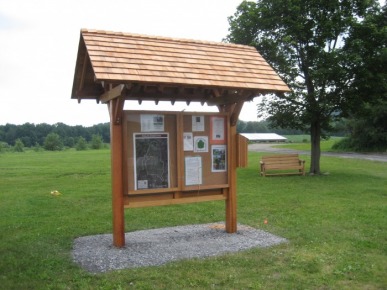 The RJP operates under an agreement between the New York State Office of Parks, Recreation, and Historic Preservation (OPRHP), who owns the land, and the Town of Hillsdale, whose responsibility is to manage and guide its use for our extended Roeliff Jansen community.
Because RJP is not a traditional state park, it does not have state funds for staffing. Volunteers help manage, maintain and run the park day-to-day. Everyone using the park will also play an important role in keeping it clean and enjoyable.
The following park rules are designed for your safety and the safety of others. In case of emergency, please call 911. The address is 9140 Route 22, Hillsdale, NY 12529.
Please follow these simple rules so all may enjoy the park:
Normal park hours are from dawn until sunset, year‐round.

All patrons using Roeliff Jansen Park do so at their own risk.

All dog owners and handlers must adhere to the Roeliff Jansen Park Rules for dogs when bringing their dog(s) into the park at all times.

Owners must keep their dogs on a leash no longer than six feet in length when entering Roe Jan Park and while moving dogs to/from the off‐leash dog run area.

Children under the age of 12 must be accompanied by an adult at all times.

Swimming in Roe Jan Creek is strictly prohibited.

Use of any unmanned aircraft is prohibited, including drones, rockets, model planes, and other remotely piloted vehicles.

Motorized vehicles are prohibited outside of the parking lot, including ATVs, off‐road motorbikes, and snowmobiles.

No dumping, littering, depositing, or leaving any bottles, glass, ashes, paper, boxes, cans, dirt, rubbish, or other trash within the park.

Hunting and trapping animals is prohibited.

Overnight parking is prohibited.

Camping is not allowed.

Campfires or open flames are not allowed.

Fireworks are prohibited.

Drinking alcohol is prohibited.

Smoking is prohibited.

Soliciting is not allowed.
Note that rules can be modified under special circumstances such as a wedding. More here.
ROELIFF JANSEN PARK RULES FOR DOG OWNERS AND DOG HANDLERS
The Town of Hillsdale, its officers, employees, and volunteers shall not be liable for any injury or harm to any person or dog incurred or caused by any person or dog in connection with use of Roeliff Jansen Park or the park's dog run.

Owners are responsible for all actions and behaviors of their dogs and shall be responsible and liable for all injuries or damage caused by their dogs while using Roeliff Jansen Park or the Roeliff Jansen Park Dog Run.

All dog handlers must be 18 years of age or older.

Owners must keep their dogs on a leash no longer than 6 feet in length when entering Roe Jan Park and before moving the dogs into the off‐leash Dog Run area.

Owners must carry their leash with them at all times.

Owners are limited to no more than two dogs per visit.

Dog feces, vomit, or other waste must be cleaned up immediately.

Owners must accompany their dog(s) within the park dog run and supervise their dog(s) at all times when off‐leash within the enclosed dog run.