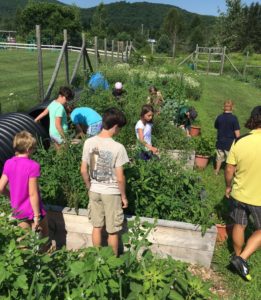 The Roeliff Jansen Park's Community Garden is located beyond the playground area in a well-composted, fenced in and sunny location. Since this garden was added to the park,lots of different people have raised flowers and vegetables in  the 4′ x 20′ plots – Girl scout groups, experienced gardeners who don't have sunny backyards, and new gardeners who want to learn from others among a few. The campers in Hillsdale's summer recreation  program have their own educational area of the community garden and snack on vegetables planted in late spring for them and plant their own vegetables.
Plots are available to anyone able to make a growing season  commitment. Please read the gardening agreement below and contact us at [email protected].
The garden includes a composting area, a storage shed, and  a harvested  rain water system for  watering plants. We also have a demonstration herb garden and a new blueberry patch to show what easy low maintenance and attractive plants they are.
Participant gardeners will sign a contract and agree to the following:
I understand that the RJP Community Garden is providing me with 4' x 21' plot(s) for the growing season. I will have it  planted by mid-June or forfeit my right to the plot.
I will maintain my plot(s) including adjacent paths throughout the growing season, keeping weeds and litter in check.
I will not use chemical fertilizers, insecticides or herbicides.
I will not bring pets into the garden.
I will clean up the plot at the end of the growing season (removing all dead plants and weeds) and have it ready for fall tilling by October 10.
I agree to help maintain the RJP community garden  and will volunteer my time in exchange for my plot.(i.e. weeding children's and demonstration garden, fall and spring clean up, helping maintain compost piles approx. 10 hrs over 5 month season).
I agree to be respectful of my fellow gardeners by not planting tall plants that will shade another plot and by not picking other's crops without permission.
I understand that neither the Roeliff Jansen Park, Town of Hillsdale nor New York State OPRHP are responsible for my actions.
I AGREE TO HOLD HARMLESS THESE AGENTS  FOR ANY LIABILITY, DAMAGE, LOSS OR CLAIM  THAT OCCURS IN CONNECTION WITH USE OF THE GARDEN BY ME OR ANY OF MY GUESTS.