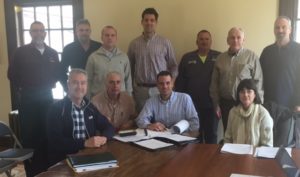 A preconstruction meeting was held on April 3, 2016, pictured right
The Town Board hosted a public Informational Meeting on Saturday, April 29, 2016, to review the Pedestrian Streetscape Improvement Project.
Four bids were opened on October 20, 2016, and, after careful review, Callanan Industries Inc. was awarded the project. Activity and construction began in May 2017 and was completed in late summer 2017.