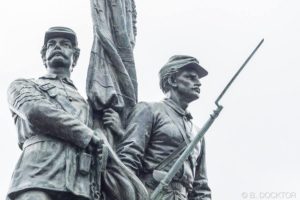 On Memorial Day 2016, our community marked the Flag Bearer monument's centennial with Roe Jan area veterans. It was a proud day for us – and a privilege to remember the local men who fought to preserve the Union and the 18 Hillsdale men who gave the ultimate sacrifice.
Reverend Mary Langley, United Methodist Church, offered the invocation.
Supervisor Peter Cipkowski gave opening remarks.
Meg Mettler Wormley read four verses that were written for the original 1916 dedication by poet Thomas Evans.
Town Historian Jay Rohrlich recited the names of the 18 dead from Hillsdale.
Rusty Elster, Senior at Taconic Hills, read the Gettysburg Address.
Lewis Cleale, who is currently performing in the Book of Mormon on Broadway, sang the National Anthem.
As the Taconic Hills Band played Battle Hymn to the Republic, Helen Hall and Commander Gerald Roberts of our local VFW placed a wreath on the monument.
Supervisor Cipkowski also spoke at the Memorial Day ceremony at the Hillsdale Fire House.
Thank you letter to the Register Star and Columbia Paper.